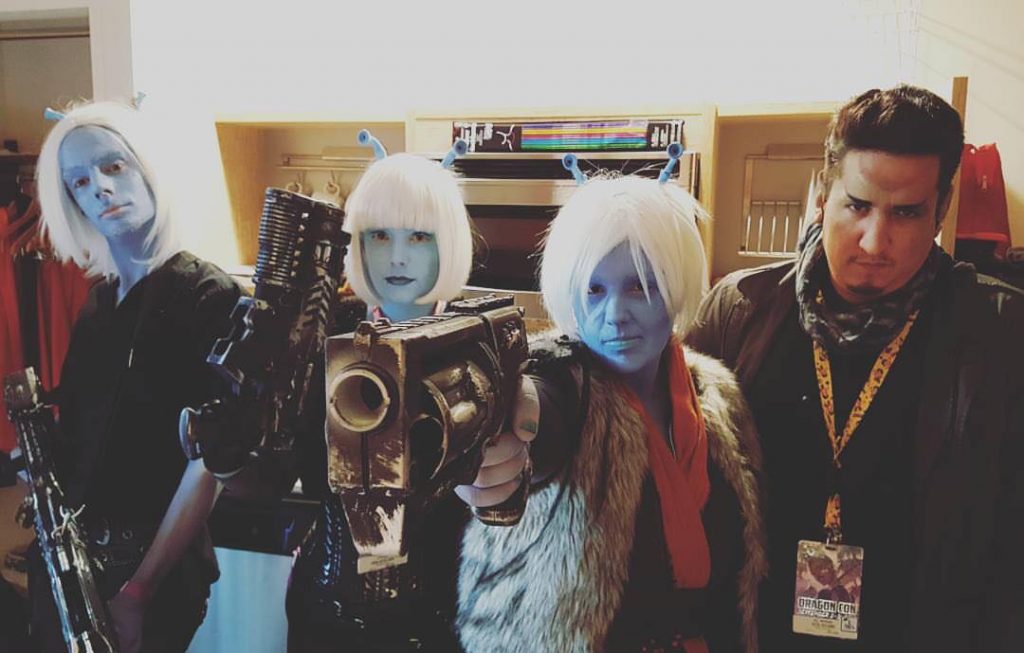 Dragon Con 2016 was a battle the crew of the XLV Korelath endured bravely. (Sometimes it's not about winning, right?)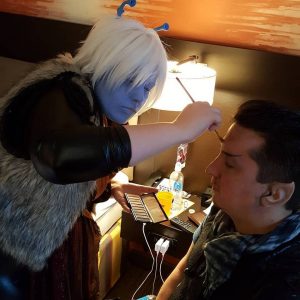 We arrived in Atlanta on Wednesday, August 31, checked into our hotel with our Terran allies, and things got off to a great start. Unfortunately, on Thursday, Vyrian St'lar, our newest crew member, sprained his ankle on the way to get his badge. You may recall that this is not an isolated incident–the exact same thing happened to Vynni after getting their badge at Dragon Con 2012. We knew the drill, and we would like to once again thank our Official Sponsor, CVS Peachtree Center, for having medical supplies on hand. With our beloved CMO, Lissan, on a long-term mission on the west coast, we were left to our own devices to care for the injury.
Nonetheless, we carried on: Vyrian was able to participate with us in the Parade on Saturday, appearing in uniform for the first time, and earning the rank of IXL Lieutenant. Myself, Vynni, and Thian were also there to represent XLV Korelath and the Wild Frontier Quadrant as usual. Huge props (ha!) to Buddy for arming us to the teeth this year.
Even with six days in Atlanta, time was fleeting. Unfortunately, I got very sick and missed all of Sunday. I regret having missed attending Klingon Karaoke and the KAG table, but I am pleased that Klingons made a good showing this year.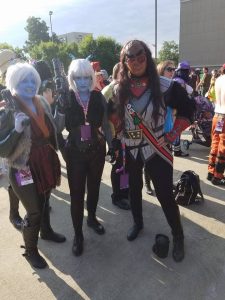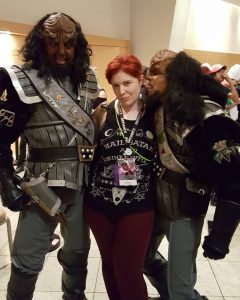 One of the highlights of the con was seeing Alexander Siddig at the Trek Track for the first time. He was incredibly funny and charming, and had great chemistry on the stage with Aron Eisenberg and Garrett Wang. We also attended several Dark Matter panels and were very excited to see the crew of the Raza in person. The absence of Defiance guests or panels this year definitely left a void though.
This year was the fifth anniversary of Vynni and I being recruited into KAG/IXL, and the tenth anniversary of our first Dragon Con! Our first Dragon Con was a magical time that kept us wanting more, despite moving from Georgia back to our home of Massachusetts. One of the most memorable aspects of that year was attending a Klingon suite party. Slowly we are rebuilding the Klingon presence at Dragon Con, and everywhere. I applaud the efforts of the Phoenix Rising to do just that.
Here's a throwback to 2006:
Thank you for reading!
-Ell
IXL Major Thellizhír vestai-ch'Lethlaen
Quadrant Commander, Wild Frontier Quadrant
IXL Tribune, Dark Moon Fleet
Commanding Officer, XLV Korelath